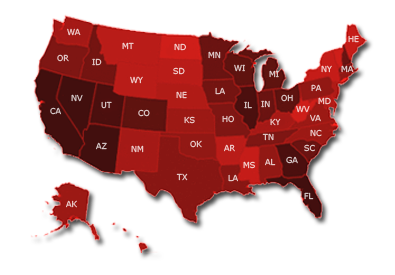 Homes up to 40% Off
Take a tour of the 82,022 foreclosures!
Fill in the information below to get FREE foreclosure alerts
in your area & receive free foreclosure data!!
When You Cannot See the Sea
In a recent article, I mentioned that if I were going to buy real estate today as an investment to flip later, use for rental property, or a vacation site, I would buy in Florida even though the state of Florida is suffering badly from the real estate implosion that occurred a decade ago. They grew too big too fast in some areas and that is the bottom line.

This is why I said I would invest there: according to RealtyTrac, a leading online site that analyzes housing trends, the rate of foreclosure for the state of Florida in March was 1 in 446 homes. The national average is almost three times better than that at 1 in 1,082. A buyer can find and pay for a house or condo in Florida at the price they want as many are bank-owned and at some point the banks will have to get out of the real estate business that they have found themselves in.

Several years ago when Florida was developing at a very scary rate, I researched a house in Orlando, Florida, that I was interested in purchasing as a flip until I viewed the public records. In doing my due diligence, I learned that the last buyer, the owner, would never recover. The house was initially purchased in the early '90s for $200 thousand and some change. A few years later, it was sold for almost twice that amount at around $400 thousand. This cycle continued until the last buyer purchased it in 2012 for almost $900 thousand. After the foreclosure filing, the appraisal value on it had been reduced to less than $200 thousand. While the county appraisal is not always accurate, it was closer to the current market rate than the amount owed on the mortgage. While a few of the owners made significant money selling the house every few years, the last one ruined his credit rating after having to file foreclosure.
Florida developers' inundation of rapid construction of houses, condominiums, and strip malls, which was overlapped with a recession, flooded the real estate market too much too soon and it collapsed.


Again in the early 2000s, developers bought and destroyed many of the locally-owned hotels along Florida's Gulf Coast and a condominium "boom" occurred. Some of these old hotels were favorite places to stay by many vacationers, myself included, because of the quick access to the white sand and, of course, the price. If one were to drive along Front Beach Road (highway 98) today in Panama City, Florida, the historic beach view is now shielded with these high-rise condominiums. While some are completely finished, at least on the exterior, there is an extreme amount that are just concrete walls on rebar skeletons where construction had to stop before a façade of completion could be finished.


This is a travesty, and another example of people not forward-thinking while trying to develop so quickly, making money on advanced sales, and even flipping some of those. During the process of trying to become wealthy, the developers destroyed some nice, affordable hotels, blocked the view of the beach for the passersby, and most of all, blocked the view of those who have lived on the opposite side of highway 98 for decades. Without the funds to go forward, and the inability to sell right away to someone who could complete the project, this almost turned this popular summer vacation area into a ghost town. While one day the construction will be finished, the views that people had enjoyed for lifetimes will never be the same.


In time, this cycle in Florida will repeat itself as investors find their bargains, and begin flipping them again. However, I bet it will not be anytime soon and Florida development will most certainly not grow as fast as it did from 2000 to 2010.